Yesterday Anthropologie opened their first New Orleans store, so today my friend Leslie & I made the trek downtown to scope it out. I managed to restrain myself and only purchase a cute pair of tiny earrings: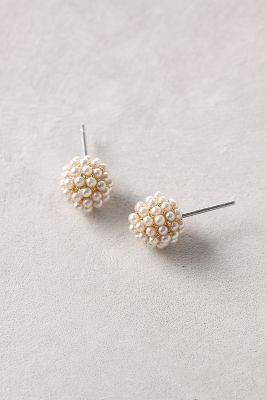 Because I need another pair of pearl-ish
earrings like I need a hole in my head
To sum up our visit to a little slice of paradise, I can only say that my pocketbook is going to be in a state of shock until I leave this city (or until they actually start having a sale section. No such luck right now). oh anthro, how can you be so bad yet so good.
(ps- I DID check out the Fleur de Lys tumblers mentioned in
this prior post
: they are $36 for a set of 4, but NOT bright red like shown in the picture. They're actually a magenta pink-ish color. Sad panda and tsk tsk toward Anthro.)