Wow, so things really have been crazy -- the end of May was filled with my two best friends from high school coming to visit, Memorial Day, designing up a plethora of wedding invites for Etsy (check out the link on the right!) and Mr Bama and I apparently going crazy and deciding to try our hand at the P90X fitness regime. Yes, its the program you see on the hokey 3-in-the-morning infomercials, but I've done a lot of research and it seems to be completely legit. Also, my pretty athletic 60 year old dad has been doing the program for about a month now and just raves about. I'm stoked because this is the first time in a LONG while (since I coached/played at A&M) that I've worked out every single day for over an hour. We finished week one on Sunday and 5 pounds later I feel awesome. In addition, yesterday on day 1 of week 2 I burned an amazing 700 calories and this morning i burned 500! I'm exhausted beyond belief by 7am, but its good exhaustion.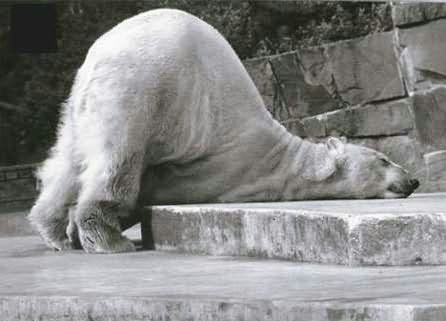 what i feel like at the end of each workout.
On another note - next weekend is my bday. Yay and boo at the same time. But I've cleverly disguised the celebration of the event as just another ladies night out. Where are we treating ourselves???
here
. Can you say YUM!? (their strawberry mojitos alone are divine).
WooHOO for tiny little locally owned - food-will-blow-your-mind restaurants of New Orleans! Photo court of
Humid Beings
And I'm also hoping to score one of these:
To go with my recently acquired pair of these:
The blue in the shoes matches the blue of the coat-dress perfectly. Trust me. Photo court of
Poetic Licence
I was also invited by one of my best friends from Grad school to join her recipe blog -- So keep an eye out on
the recipe stacker
for some amazing global cuisine from all over (including some awesome Epicurean treats from New Orleans :-) )
So that's the run-down. Hopefully more post-worthy things will happen this week and weekend!